Together, we make a difference to build, strengthen and grow our communities – especially, when it's needed most.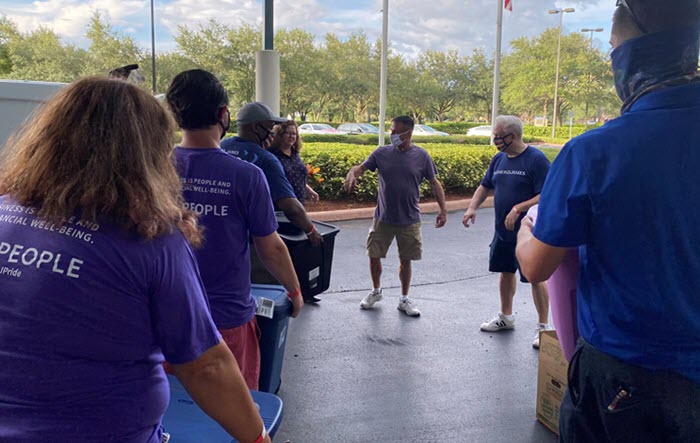 Volunteerism is rooted in the Raymond James culture and giving back is more than a tradition; it's who we are. During Raymond James Cares Month this August, our associates and advisors invested their time, talents and resources to make a positive impact.
Our Impact
Raymond James Cares Month 2020 was a celebration of the commitment of our associates' and advisors' commitment to the communities in which we live and work. Volunteering this year looked different from past Raymond James Cares Months with more small-group activities, virtual volunteerism, food and supply drives, and record-breaking fundraising campaigns – collectively donating $283,000 to support local nonprofits from Tampa Bay to San Francisco Bay. The work continued in Canada and the United Kingdom with record-breaking funds raised to support those affected by COVID-19. We remained socially distant but the Raymond James culture persisted and creativity flourished.
Together, we made a difference:
More than 215 branches and corporate teams led 395 community service projects in 112 local communities across the United States, Canada and the United Kingdom.
Over 2,254 professionals volunteered on these projects, including coastal clean ups – which collected nearly 4,000 pounds of trash – food packing, meal deliveries, blood donations and more.
Volunteers donated 4,612 hours, benefitting more than 289 nonprofit organizations.
Associates served and packed 32,184, meals including 41,554 pounds of food for the underprivileged, and collected 16,781 non-perishable goods for nonprofit partners.
Since its inception in 2012, associates have donated more than 51,800 hours during Raymond James Cares Month
Our People
Across the firm, advisors and associates led the charge, choosing nonprofit organizations they felt passionate about to support for Raymond James Cares Month. They coordinated logistics and shared opportunities to volunteer with clients and members of the community. See a few of their service projects below.
Our Growing Impact
Each year, our impact continues to grow and multiply as Raymond James associates and leaders work side-by-side to make a difference in their communities.
"Giving back is so much more than a tradition – it's our way of thanking those who've supported us from the start." – Chairman Emeritus Tom James
Learn more about our giving story and Raymond James Cares programs throughout the year.